Swiss Mexican Mondragon
And the Mexico Mondragon Bayonet


Here is a nice example of a 7x57mm semi automatic Mexican Mondragon Rifle. Designed by Mexico Colonel Manuel Mondragon and made under contract by SIG Neuhausen in Switzerland. The Mexican Army adopted it as the Fusil Porfiro Diaz, Systema Mondragon, M1908. SIG Neuhausen produced 4000 of the Model 1908 rifles for Mexico, but only the first 400 in 1911 were ever delivered. The rifles were in service with Mexico until the late 1920s. It is said that the infamous Poncho Villa was killed in a hailstorm of 7mm bullets fired from Mondragon rifles in 1923. As for the remaining rifles in Switzerland. The Germans bought them from the Swiss in 1914 and issued them to Infantry during WWI. The actions clogged up easily and the rifles were withdrawn from service. Then issued to aviation units to arm aircraft and reportedly used it to arm observation balloons. Then withdrawn again and scrapped. A Mondragon, serial number 1270 from the Hoffman collection was offered for sale in 1999 by Old Town Station Ltd. in Lenexa, KS. It sold for $8500. I found the rifle pictured here listed for sale on Gunbroker Auctions in April of 2005. The seller (also by the auction user name of mondragon) was kind enough to let me use the pictures for this webpage.
Thanks Robert!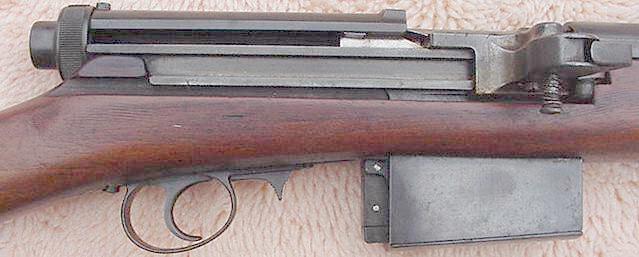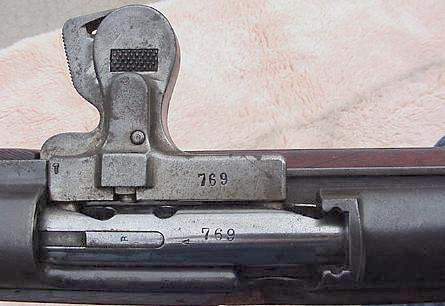 ---
And Below is a set of pictures of the Mexican Mondragon Bayonet. The Mondragon was issued with an unusual combination bayonet entrenching tool with a semi-circular scoop type blade. Bayonet is marked MADERA HIERRO & pommel has R in circle & another unknown symbol in circle. Hilt is marked REPUBLICA MEXICANA. Note HIERRO translates to Iron and Madera is a town in Mexico, so this bayonet was probably made with Madera Steel and or was made in Madera Mexico.
---
Please Click Here for a listing of bayonets we have available for
various Military and Curio and Relic rifles
Back to Curios & Relics Home Page
All contents of this Web Page are Copyright (c) 2005 by Texas Trading Post, texastradingpost.com. All rights reserved.
texastradingpost.com (sm)